---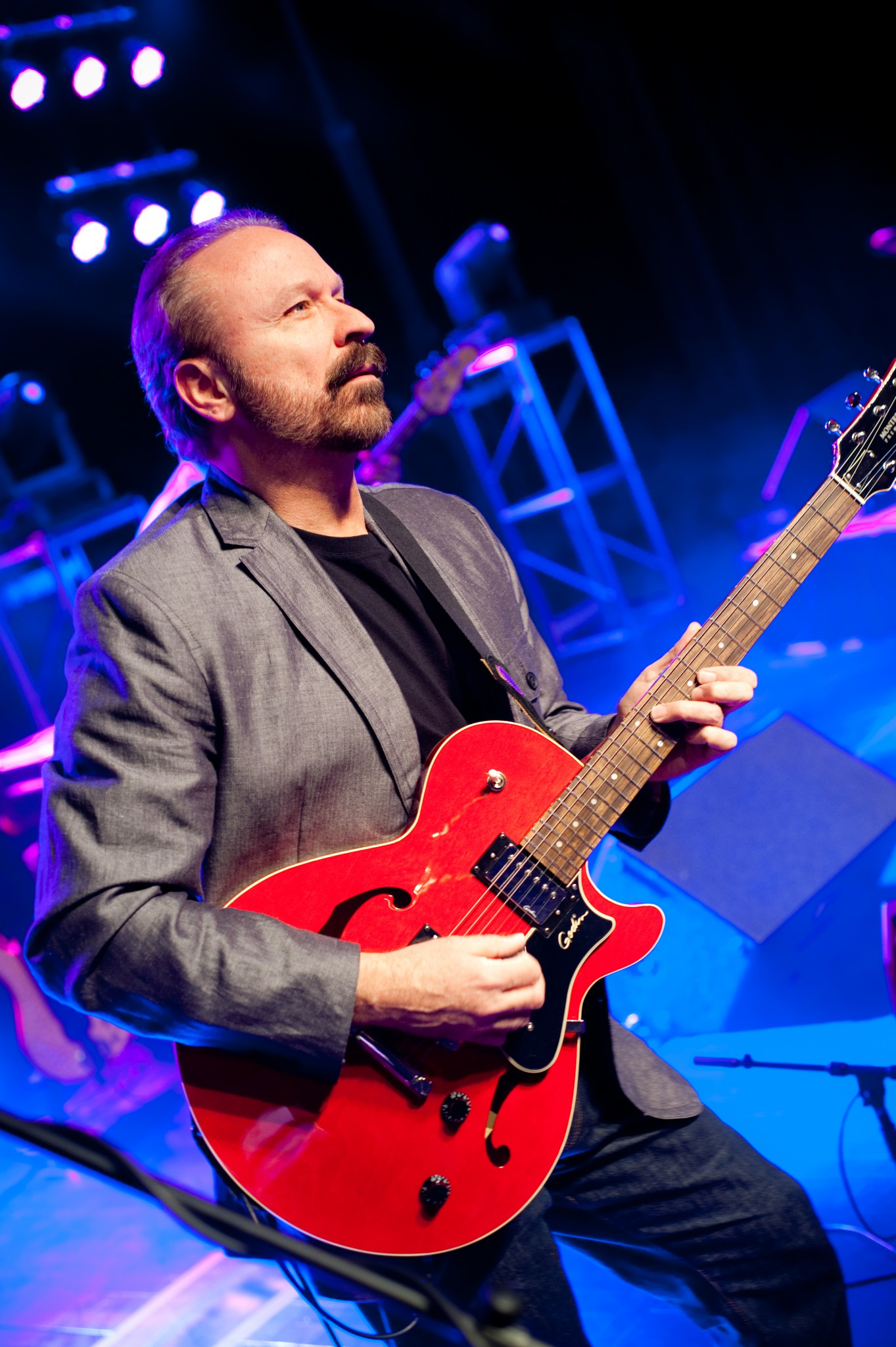 Originally from Milwaukee, guitarist Daryl Stuermer is widely known for his work as touring guitarist for the legendary band Genesis, as well as working with, among others, front-man Phil Collins, during his solo career. Stuermer has appeared on all ten of Collins' solo albums, including the multi-platinum-selling Face Value, Hello, I Must Be Going, No Jacket Required and …But Seriously albums. Stuermer has also worked with a variety of other artists over the years including jazz/fusion violinist Jean-Luc Ponty, Frank Zappa-band keyboardist George Duke, Joan Armatrading, and Earth, Wind & Fire's Philip Bailey.
Joe Milliken caught up with Stuermer, as he was touring the world with Genesis, whose 2007 "Turn It On Again" reunion tour would mark the first time the band had played together in 15 years.
Joe Milliken: When did you first start playing guitar and who were your earliest musical influences?
Daryl Stuermer: I started playing guitar at 11-years-old. My earliest influences were guitarists from the groups I was listening to at the time such as Elvis, The Beatles and The Ventures. However, my biggest influences on guitar were the jazz artists Wes Montgomery, Joe Pass and George Benson, fusion guitarists John McLaughlin, and Larry Coryell, and rock guitarists Jeff Beck, and Jimi Hendrix.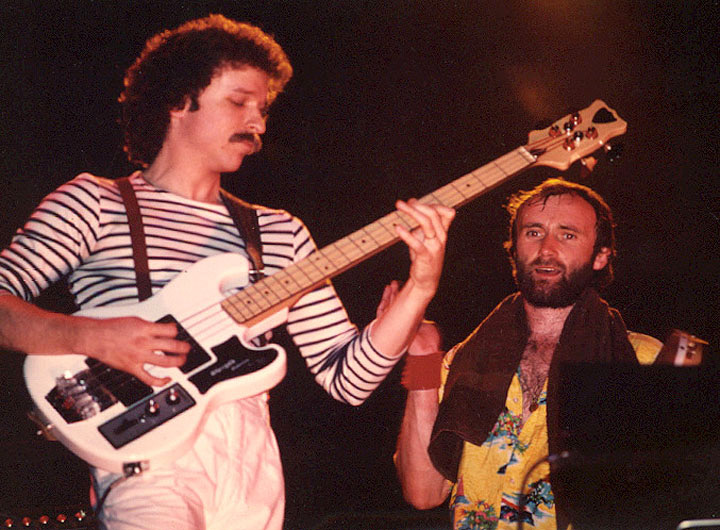 JM: What would you consider to be your breakthrough moment as a musician?
DS: When I auditioned for violinist Jean-Luc Ponty. My three years with the violinist was a major influence on me as a guitarist. His compositions were very challenging on the guitar. And of course, Genesis has influenced me greatly, conceptually as a writer and guitarist, in so many ways over the years. Before Genesis, I played with a more conventional guitar sound. Now, the guitar sounds I play with Genesis have become part of me.
JM: You mention working with Jean-Luc Ponty. How did your whole connection come about?
DS: In 1975, some members of Frank Zappa's band sat in with my band, Sweetbottom, in a nightclub in Milwaukee. Keyboardist, George Duke liked my playing and recommended me to Ponty.
JM: Yes, you recorded with the legendary keyboard player, George Duke, on two of his solo albums in the mid-70s. How did you first meet Duke and what can you remember about those recording sessions?
DS: His album I Love The Blues, She Heard My Cry was the first album I ever played on in 1975. I remember George as an easygoing person to work with. When I asked him what he wanted me to play, he simply said, "just play what you play." His concepts and musicianship are amazing. He's one of the best musicians I have ever played with. The session we did was easy and fast.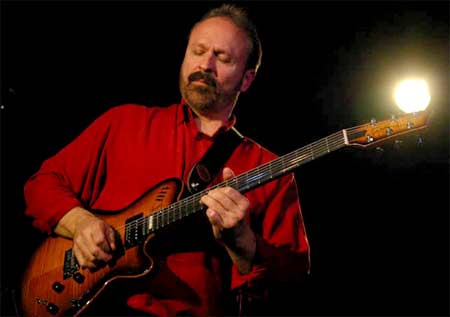 JM: After recording four albums with Ponty, you found your way to Genesis when your friend, bassist Alphonso Johnson, recommended you as a replacement for the departed Steve Hackett. Did you actually audition for the gig? What was your first meeting with the band like?
DS: In December of 1977, I received a call from Genesis' tour manager, Tony Smith, and went to New York and auditioned with (Genesis guitarist) Mike Rutherford. I sat with Mike playing along with a cassette of four Genesis songs. I can remember playing "Down and Out," "Squonk," and "Dance On A Volcano." Afterwards he said, 'I think you're the one!' A few weeks later, I flew to England to rehearse for the And Then There Were Three tour.
JM: You would go on to work as Genesis' touring guitarist for many years, which had to be a life-changing experience for you. Can you perhaps pick a tour or particular time period when you thought Genesis was peaking as a live band?
DS: Originally, I thought the band peaked in 1992, but I think we are actually peaking now (2007). I mean that seriously. For some reason, this band is playing better than we ever have. Maybe it's because we are so happy to be together again. I'm really not sure. All I know is that we are having a great time playing this tour.
JM: How do you think the current (2007) tour might be different from past Genesis tours?
DS: In the past they have always pushed a new album. Although, I know they are selling some box set reissues in 5.1 surround sound mixes, there really aren't any new albums with new songs being sold at this time. So, we are just playing because it's great to be together again. We've always had a good time playing together, but I think this one is particularly special. After all, it's been 15 years since the last tour!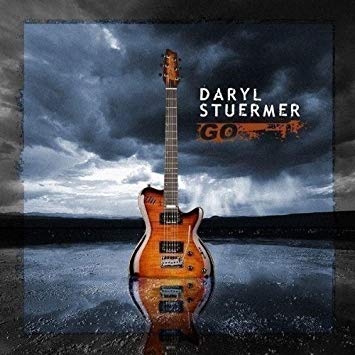 JM: You recently released your sixth solo album titled Go, which features several tracks from your first band, Sweetbottom. What was the thought process behind these songs finally resurfacing?
DS: I've never had a studio recording of those three songs with Sweetbottom. They are songs that I have always played live with my band, and it was just time to update the songs and put them on this album. They certainly fit with the direction I was going after.
JM: Your friend and legendary bassist, Leland Sklar, took part in the recording of Go, along with your other solo efforts through the years. How did you first meet Leland and tell us something you admire or enjoy about his talent?
DS: I first met Leland in London when we were recording Phil Collins' No Jacket Required album in 1984. First of all, he is the funniest guy I know. Secondly, he is just an amazing bass player. He is so fluid and musical, and has personality too. He puts himself into whatever he plays. He's also a very consistent player in a live performance. That's a big asset when you're touring for months and months.
JM: Thanks so much for your time, Daryl, and we will leave you with this. Name a musician you admire and would like to collaborate with?
DS: I certainly can't name just one, but I would love to play with Sting, James Taylor, Bruce Hornsby, Steely Dan, and again, with Peter Gabriel.