---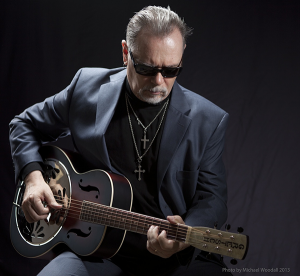 Although many rock music aficionados might not be familiar with the name, Steve Hunter, rest assured you have heard his work somewhere along the line. You see, Mr. Hunter is a long-time (mostly) session guitarist who has worked with some of the genre's biggest names. From Aerosmith and Peter Gabriel, to Lou Reed and Alice Cooper, to Dr. John, Mitch Ryder, David Lee Roth and Cream's Jack Bruce, Mr. Hunter has carved out quite a niche for himself.
You may be familiar with Aerosmith's version of "Train Kept A Rollin'," or Lou Reed's classic live version of "Sweet Jane," or (while he was a member of the classic-70's Alice Cooper line up) Cooper's landmark albums "Billion Dollar Babies" and "Welcome To My Nightmare"… Yes, Steve played a role in them all.
Joe Milliken recently caught up to Mr. Hunter, giving us the opportunity to not only get some first-hand insight on how this guitarist from Decatur, Illinois would become so prominent in the rock music scene reaching across four decades, ('cause you know it isn't just shit-luck) but also learn more about his multiple solo albums because as you can imagine, Steve's had a few folks play on his solo efforts that you may have heard of as well.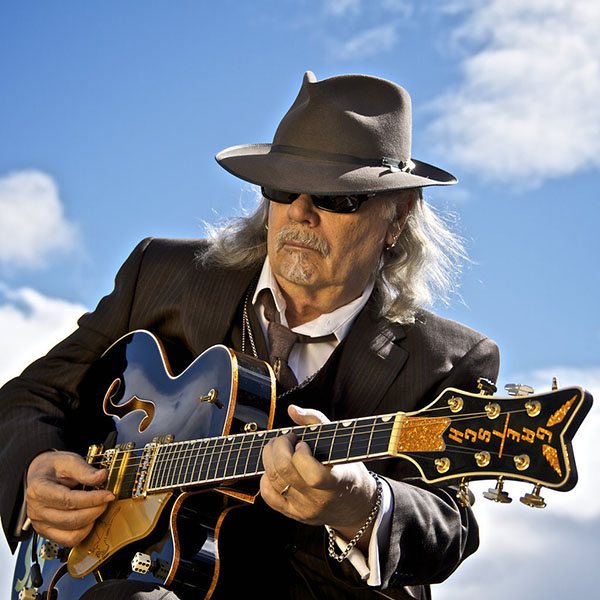 Joe Milliken: Thanks so much for your time, Steve and I'll get right to it! Who were your musical influences during your formative years?
Steve Hunter: Very early on I would listen to guitarists Chet Atkins, Duane Eddy and Jerry Byrd. Then, later on in the 60's I started to hear some of the music coming out of the UK, so players like Clapton and Hendrix had a big influence on me. Through them, I learned about the blues-men like BB King, Albert King and Michael Bloomfield.
JEM: How/when were you introduced to the guitar? Did/do you play any other instruments? How did your nickname "The Deacon" come about?
SH: My Dad got me into playing lap-steel guitar when I was eight and we would occasionally do local performances together. Later, I moved on to electric and acoustic guitar, but over the years I also got into playing dobro, mandolin and dulcimer which all came in handy when I did the Tracy Chapman tours.
I got the nickname "The Deacon" after (producer) Bob Ezrin called me about some work and asked if I was "still a clean-living boy"… I said jokingly "Yeah, I'm still the Deacon of Rock-and-Roll." He loved that and still calls me Deacon to this day.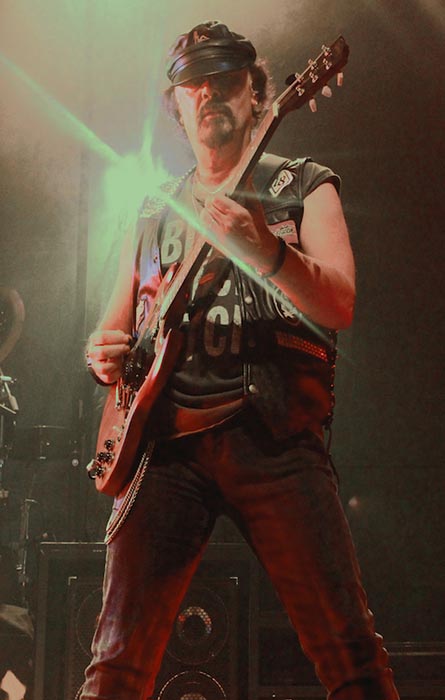 JEM: After high school and then serving our country during the Vietnam War, (thank you, for your service) you got your first break in music when joining Mitch Ryder's new band "Detroit" in the late 60's… how did that come about?
SH: I was hanging about in my hometown, Decatur, after getting out of the military when I got a call from my old bass player buddy, John Sauter. He was playing with Mitch Ryder at the time and said that Mitch was auditioning guitar players and that I should get to Detroit and try out for it. It took me nine hours to drive there but when I did, I got my first opportunity to play through a Marshall amp and it was awesome! To be honest, I thought the drive was worth it just for that alone, but I got the gig as well.
JEM: Through your experience with the "Detroit" band, you met (the aforementioned) legendary producer Bob Ezrin. How did this relationship effect your musical direction and style at the time?
SH: Bob Ezrin is an amazing producer and I learned so much from him. Not only about playing in a studio, but about how to put a solo together and how to add something to a track without getting in the way of everything else going on. I watched how he got the best out of the musicians and how he got the right sounds in the studio. Over the years, he called me in on many different albums and that is what I loved best about becoming a session player… that chance to play all sorts of music.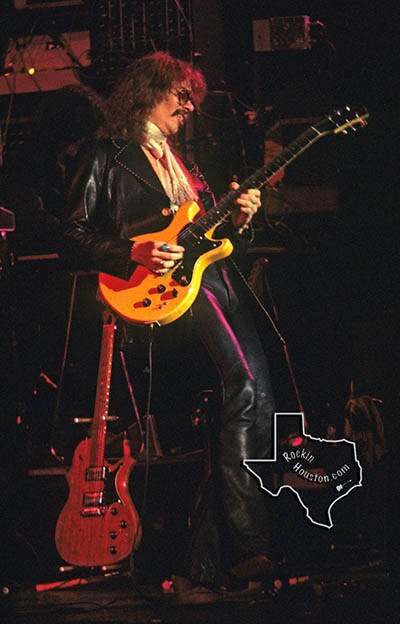 JEM: In the 70's you worked with and appeared on five Alice Cooper releases including the classics "Billion Dollar Babies" and "Welcome to My Nightmare". How did working with this band effect your style and can you perhaps share a cool story or memory from that time?
SH: Working on "Billion Dollar Babies" was a great honor for me; I loved the original Alice Cooper Group and had seen them live a few times. Working with Alice was always an experience, we had so much fun in the studio during the recording of "Welcome to My Nightmare". Many times, we would end up crying with laughter when Alice or Bob would get crazy, doing funny voices or other crazy stuff.
JEM: How did you end up playing on Lou Reed's legendary "Rock 'n' Roll Animal" album?
SH: "Rock 'n' Roll Animal" actually came about after I had done Lou Reed's "Berlin" in 1973. We were touring with Lou when a couple of performances were recorded live… which would become Rock 'n' Roll Animal and Lou Reed Live.
JEM: Aerosmith's 1974 release, "Get Your Wings", is one of this interviewer's favorite rock albums… how did you come about playing that classic opening solo on "Train Kept A Rollin'" and did you appear on any other songs from that classic record? Did you meet with the band that day?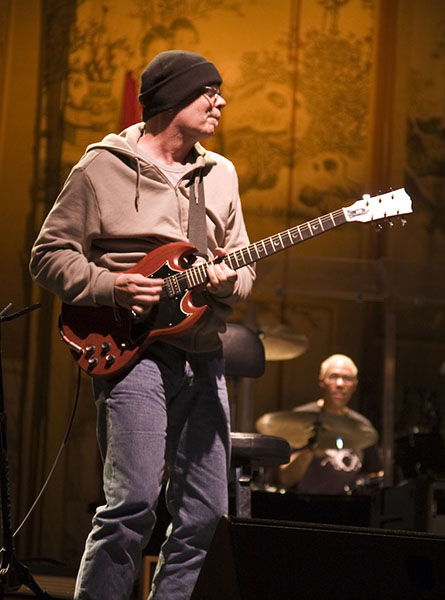 SH: Playing on "Train Kept A Rollin'" came about after Aerosmith producer, Jack Douglas, spotted me taking a lobby break from another session and asked if I would like to play on something and I said yes. Then, after he checking to make sure it was o.k. with Ezrin, who I was in recording with, I grabbed my guitar and joined the whole band in the studio! I ran through it once, but didn't have the vocal in my headphones, so Jack asked me to do another pass and when I finished that one he said, 'Thanks, that's great!"
JEM: In 1977, you played on Peter Gabriel's wonderful debut solo album, including the acoustic intro to "Solsbury Hill." Can you share a memory from that studio time or perhaps a memory from briefly touring with Gabriel in the spring of that year. Robert Fripp was in that touring band as well?
SH: Working with Peter Gabriel was great, he is so creative and thinks outside the box. I remember that "Solsbury Hill" was the last track to be finished; Robert Fripp had already gone. Peter, Bob and myself sat around the piano as Peter played through what he had in mind. Bob had the idea of my playing it in "Travis Picking" style. Yeah, Robert Fripp was on that tour, but he kind of hid away and called himself Dusty Rhodes.
JEM: How did you come about working with David Lee Roth's solo adventure in the mid 90's?
SH: I got called in on the David Lee Roth album by Bob Ezrin, as they had asked me to give some blues lessons to this talented, young shredder named Jason Becker. I played mostly rhythm guitar on that album, as Jason was the main lead player. Jason and I hit it off instantly, then sadly he got diagnosed with ALS during the recording. We are still the best of friends to this day.
JEM: You've released some six solo albums over the years and 2013's "The Manhatten Blues Project" featured several cool guest artists, including Joe Perry, Joe Satriani and Tony Levin. What was the concept behind this release and how did you come to choose any of the guests mentioned?
SH: I got inspired to record "The Manhattan Blues Project" after a friend of mine took some awesome photographs of New York. I had always loved the city as I had done lots of recording there back in the day and would have lived there if I could have afforded it.
The first person I asked to play on it as a guest was Tony Levin, he and I had played on a few albums together, including the one for Gabriel. Once he said yes, it set me thinking that having a few other guest players would be cool, so the next person I asked was Joe Satriani. After he also said yes, I kind of got all confident and starting asking all the others. They were mostly players I had not had the chance to work with before. I liked the idea of the different styles on the album.
JEM: You won an "Emmy Award"… very cool! Please tell me how you got involved with the "Christ Child House" project?
SH: I was asked to do some music for a documentary about a boys home in Detroit called "Christ Child House" and The Detroit Free Press funded it. They used a few pieces of my music including a track from my album "Short Stories" called "Blue," a piece that was totally improvised when I recorded it. The documentary won an "Emmy" so I got my plaque. I'm very proud of it and very proud that all the boys in that documentary went on to find new families.
JEM: Can you tell me about any current projects you may be working on? Anything else you would like to add that I may not have covered in these questions is most welcome.
SH: I have just finished writing and recording some "chill-out" music with my wife, Karen and we released it under the name "Rue la Mer". I am currently re-mixing an old demo of mine, a tune that was featured in the movie "The Rose" with Bette Midler… it's called "Camellia" and we only played the first eight bars for the movie. I thought people might like to hear the whole tune as it was originally written and we will probably put that out as a single. Then, I need to start my next solo album, which will definitely have a bit more rock on it than my last couple of releases.
To learn more about the amazing career of Steve Hunter and check out his solo releases, visit his website at www.stevehunter.com