---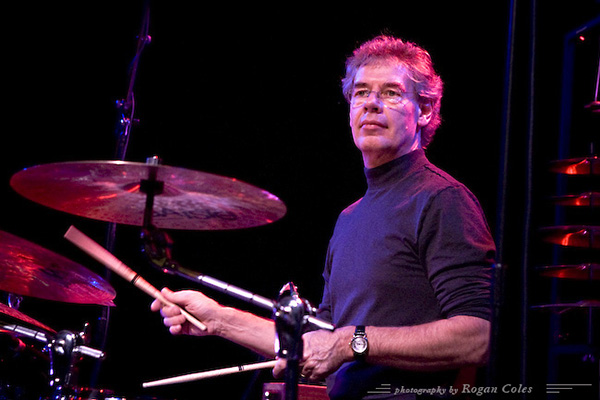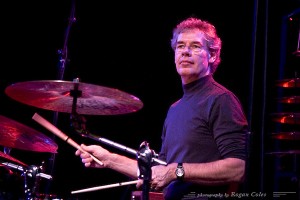 Drummer, composer, and band leader, Bill Bruford, is recognized as a highly versatile rock and jazz musicians. As a drummer, he helped pioneer the "art rock" genre in the 70's with bands such as Yes, Genesis, and King Crimson, and would go on to form his own band, Bruford, a progressive outfit designed to satisfy his growing desire to create music outside of the rock realm.
Article by Joe Milliken * Photos courtesy of Bill Brufird
In the mid-1980's, Bruford then formed his own band called Earthworks, an experimental acoustic-jazz ensemble created to further expand his compositional skills as a jazz band leader. Over the years, the diversity of rock and jazz musicians and bands Bruford has worked with is remarkable; from the aforementioned rock greats Yes and King Crimson, to such legendary jazz names as Al DiMeola, Larry Coryell, and the Buddy Rich Orchestra. In an exclusive interview, Bruford talks to Joe Milliken about both his past musical experiences, and current projects as well.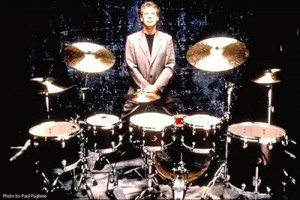 Joe Milliken: At an early age you received lessons under Lou Pecock of the Royal Philharmonic Orchestra. What were some of your other early musical influences?
Bill Bruford: I heard a lot of music as a kid, from three sources. My older sister had all the white pop of the day like Elvis and the Beatles. My parents were keen ball room dancers and show tune people – Sinatra, Bennett, and West Side Story. And the older students at school were hooked on jazz – American bop and hard bop greats. Also a lot of R & B – John Mayall, Mick Fleetwood and Eric Clapton. I liked it all, but I really liked jazz.
JM: What have you taken from your progressive rock days with Yes, Genesis and King Crimson, and applied it to your current jazz format?
BB: Of course, we are all products of the musical environment we have chosen. Much of King Crimson was a music lesson inside a music laboratory, and altered my understanding of what it meant to be a musician. Learning to expect the unexpected; accepting that a first response is probably the best; allowing yourself a strong attention to dynamics.
JM: You have shared the drumming duties several times, including Genesis, Yes and a double-trio King Crimson. What is your approach in this type of setting?
BB: Double drummer work is paradoxically confining and liberating; confining in the sense that if you've agreed to play it, you've got to play it; and liberating because if you have the simple part, the other can offer the complex, or vice versa.
JM: The first album you recorded with UK in 1978, (a band featuring Allan Holdsworth, John Wetton, and Eddie Jobson) remains a favorite of mine. What stands out about that project for you?
BB: I sometimes site Holdsworth's first solo on the CD, on "In The Dead Of Night", as a model of how to build a guitar solo. I knew that he was not well known in the U. S. in the late 70's, and that album would put him on the map. It was a good album, with all four guys – for the first and last time – all pulling in the same direction.
JM: Upon forming Earthworks in 1986, how did the collaboration with Django Bates and Iain Ballamy come about?
BB: Earthworks was based around the idea that the electronic drum set – able to play all manner of chordal, sampled, pitched and un-pitched material – had come of age, and was an instrument that could be used seriously in jazz. The idea was that I would play much of the chordal material, and I would find some young open-minded players from the growing U.K. jazz scene to play lines on top. I already knew the brilliant tenor saxophonist Iain Ballamy, and he introduced me to the equally astonishing horn and keyboard player Django Bates.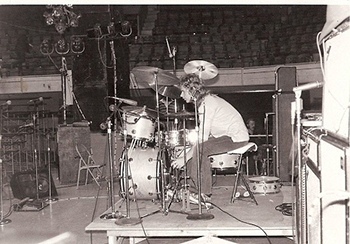 JM: In the early days of Earthworks you played a hybrid kit using both acoustic and electric drums, as well as electronic pads to trigger keyboards. Was there a particular drummer or "model" that you followed in creating this format?
BB: Trying to do the harmonic stuff from these new electronic pads was a self-inflicted punishment that was maddening, but any musician worth his salt always wants to push these new instruments past their design capabilities. The manufacturer also wants a high–level endorser to get behind the instrument, often before the equipment is ready for market, which can be a recipe for disaster.
JM: You have been an active clinician throughout America and Europe since the early 90's. What do you enjoy most about teaching and has it enhanced or effected your own playing or philosophies?
BB: I prefer teaching small groups in an academic atmosphere, as I do at a couple of universities here in the U.K. We are of course, all teachers and students of music, and you realize how little you know when you try to pass the knowledge on!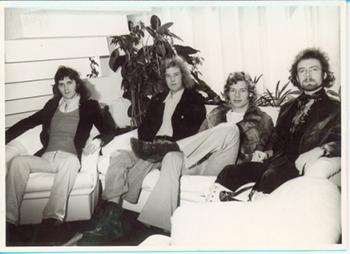 JM: When starting your Winterfold/Summerfold labels in 2003, I understand that one of your goals was to bridge the gap between the fans of your older progressive/rock days with those of your later Earthworks and jazz ensembles. Do you feel you have accomplished this?
BB: Well, it's a work in progress. The two labels have some 22 titles in total now, and it has been fun cataloguing, adding tracks, and reviewing archive video and audio material. I'm also into the newer format of DualDisc, with one side audio and the other side video.
JM: On your recent Earthworks Underground Orchestra release, several of your Earthworks compositions are expanded upon through Tim Garland's "little big band." How did this new setting effect the music?
BB: The more musicians you have on stage the more accurate the drummer has to be. Playing in a big band is a skill in itself, so it was a pretty fast learning curve. it was great to play in a larger ensemble with all the firepower.
JM: Thanks for your time Bill and we'll leave you with this… I have not yet heard your World Drummers Ensemble A Coat Of Many Colours DualDisc release, which includes the world renowned percussionists Chad Wackerman, Doudou N'Diaye Rose and Luis Conte. What would you say to the listener putting on the CD for the first time?
BB: Some of the material is very tightly written, and after a while you begin to hear the melody in the pitch in Luis' congas or Chad's pitched drums and cymbals. Think of four guys in conversation, but are new to each others' ways of thinking.