---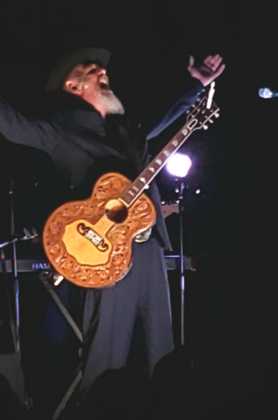 As night began to fall, and Shabbat faded away, two Jewish Renaissance men intersected; one in spirit, one in flesh. The blending of their souls through their music descended on a hallowed synagogue in Austin, Texas.
Two Jewish boys from the east; Ray Benson, born Ray Benson Seifert, and Leonard Norman Cohen, though now literally worlds apart, were deeply joined together on a recent November Saturday evening at Congregation Agudas Achim. Ray Benson, frontman and founder of the world-renowned western swing band, Asleep at the Wheel, paid a moving tribute to Mr. Cohen in a concert entitled, very appropriately, Hallelujah. "…It's not a cry that you hear at night. It's not somebody who's seen the light. It's a cold and it's a broken Hallelujah….Hallelujah, Hallelujah, Halleluuuuujah!" Ray's rich, reverent baritone enclosed us, uniting a congregation of yarmulke covered men, well-coiffed ladies, tattoo embellished cowboys, Ray Benson lovers (such as me), Leonard Cohen aficionados, and Asleep at the Wheel dedicated followers.
An evening which began with Cohen's poetry read by the Rabbi and women of Congregation Agudas Achim, set the stage for Ray and his fellow musicians. A silhouette of Cohen in the background, a projection creatively casting a fedora-wearing band member (Dennis Ludiker), heartened us from the beginning to embrace the spirit of Leonard Cohen.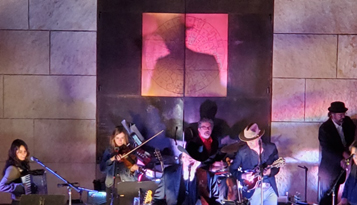 Worlds apart, but with more than their faith uniting them, Cohen and Benson, took us to the river with the hypnotic Suzanne, into that Avalanche filled with pain, and soon into my very favorite of Cohen's, Bird On a Wire, and that's when my tears began to flow. Perhaps it was the light of the Ner Tamid glowing behind the band symbolizing the presence of God, or the small gentle herd of deer grazing outside the synagogue, or being in the company of a thoughtful, caring friend, but I was transfixed, mesmerized, tear-filled and spellbound…truly in the presence of greatness.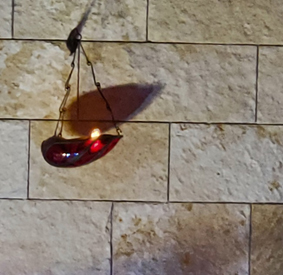 A moment of pure enchantment happened when on the very first notes of Dance Me to the End of Love, couples gravitated to the center of the synagogue, in an impromptu dance and sing-along. I think I may have heard the song before, but never realized that Cohen wrote it and as the dear lady sitting to my right explained, it has become a Jewish classic and often played at wedding celebrations.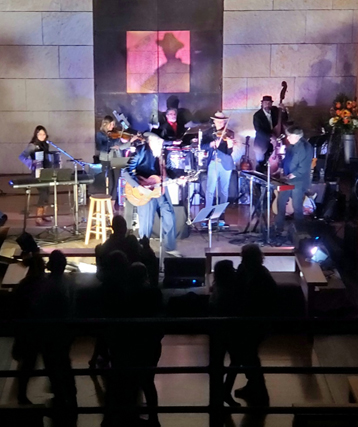 I have to say that the teary situation did not improve, who cannot have dry eyes when Ray belts out the hopelessness of Everybody Knows or hear the mourning dirge of Hey, That's No Way to Say Goodbye? "You know my love goes with you as your love stays with me, It's just the way it changes, like the shoreline and the sea…your eyes are soft with sorrow, hey that's no way to say goodbye." Voices lifted in unison as we all sang So Long to Marianne and the lilt of that tune put us in a less melancholy, almost cheerful mood. No disrespect to Leonard, but Ray Benson sings Leonard Cohen better than Leonard Cohen sings Leonard Cohen.
The evening ended all too soon, with the tribute moving through First We Take Manhattan, Famous Blue Raincoat, Tower of Song, and other favorites. It was well past 10 PM when things wrapped up. Unlike the "hurry up and get out of here" exit seen at most concerts, many of us lingered with a sense of sadness that our special time together was over. I instantly brightened when I reached for my coat and saw my very own personalized copy of Ray Benson's book, Comin' Right At Ya! Now you might ask how on earth I acquired such a wonderful tome. That thoughtful, luminescent friend sitting beside me – she gifted it to me, but not before she compelled drummer David Sanger, to take the book on the bus to have Ray personalize it for me. Thank you from the bottom of my heart, my moxie Mott!
In loving memory of Leonard Norman Cohen
1934-2016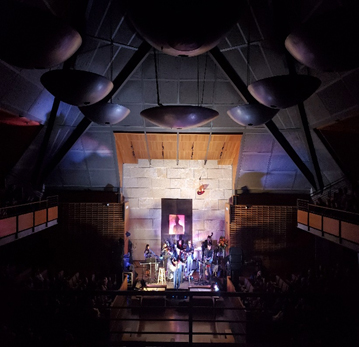 A special thank to Ray and his band:
Music Director – Chris Gage
Sound Director – Curtis Clogston
Lead singer/Guitar – Ray Benson
Drummer – David Sanger
Bass – Joshua Hoag
Fiddler/vocalist – Katie Shore
Keyboard/Accordion – Ginny Mac
Vocalist/Guitar – Chris Gage
Guitar/Mandolin/Fiddle – Dennis Ludiker