Somewhere, along my musical timeline I decided, mentally, that  I had enough MUSIC…..meaning that I was "good" on my steady diet of Prog, punk, * 80 's and all sorts of JUNK. ( I mean that with affection)
I love so much music that I feared I was just about "FULL" and if I crammed anymore into my cerebellum that it would start to spill over and out.. and, well. Out of my head…it has been accumulating for quite some time..
"oh oh I'm over my head!" – Toni Basil 1984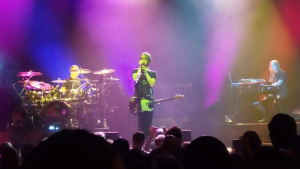 I do not want to forget about all the bands I grew up listening to from Saga. Rush, YES. From Asia .. to Zebra..
A to Z… They are all in my head..
Abc  to Waitresses, Xtc, Yazoo and Vitamin Z… ( uh  oh – here comes a song!)
From Van Halen to Vival- di.. I try to know it all – Dee! Dee Ramone-y Blond-ie Cbgb(eeeeeeeeeee) s Do you need me to Break it down to you? I'm like an encyclopedia Does that rhyme  with onomatopoeia From Joy Division To Steve Wilson!
Sccccccccccccccccrrrrrrrrratch.. Like a record skipping .Now rewind it back…say what?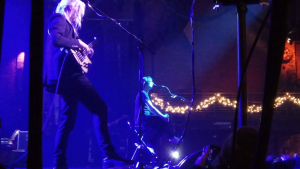 I was given a set of tickets so I took to the book of face and  posted .. WHO WANTS TO GO? And like an episode of Family Feud .. the NUMBER ONE ANSWER : .  WHO is that? In short , and in a way of sorts, he is the love child of Donna Summer and Pink Floyd.
NO . I'm not kidding..
Lao Tzu  said something like,"  Even the most epic of journeys starts with the first step."
Steven Wilson's started with 2 records.. One  Christmas . " Remember when you were young?? …You were caught on the crossfire of childhood and stardom…"
No , it's not my friend's band playing locally. I don't have time to explain that this show is the  25th Anniversary of when Porcupine Tree first played… and all that about Yes Remixes.. BLAH BLAH BLAH!! ( that's rockchat.  Just ask genius Alex Lifeson…)
The short version is that if you grew up on Joy Division and the Cure, or Tull or King Crimson or XTC,or a band called MINDF*CK… well,   I can TELL you all about it but I think you should give it a listen. I did and I liked it.
Give "Pariah" a spin and take it from there.  You might love to love it Baaaaaaaaaaaaaaabbbbbbbbbbbbbbbbbbbayyyyyyyyyyyy.. and/or get brain damage… the lunatic.is on the grass….
THIS  LUNATIC has a record player.. And a radio show.. TUNE IN to WUSB.fm NY .. Join my social media and I'll see you on the dark side of the moon.
And on the book of face  : WAXX TRAXX TO THE MAXX..
someone is  in my head but it's not me on TWITTER : #LegendSciora
Until next time -Shine on you crazy diamonds… .
The Steven Wilson show came to THE PARAMOUNT on DEC 4th…TO THE BONE TOUR.  Here's some photos ( yes that is Nick Beggs of Kajagoogoo , Kaja and Lifesigns! )