---
We've got to show some respect
We've got to learn to protect
Don't take it for granted, I know
That if you want to stay close
We've got to show some respect – Tina Turner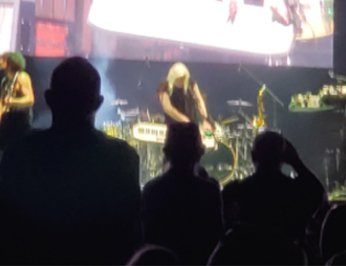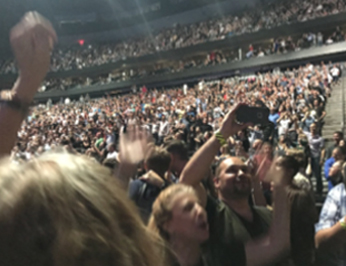 Because teaching social skills is part of my job as an educational consultant, and because of the concert behaviors I have seen of late, I feel compelled to expand my consultation to the rest of the world, who seems to have totally forgotten how to act socially at concerts and other productions.
Have you downloaded or printed your tickets? Nothing worse than standing and waiting, and waiting, and waiting behind someone trying to pull up the internet to access their tickets, ruins the whole ambiance of the evening.
Handbag/backpack review – Small crossbody bags or mini-backpacks are best if you feel you have to have something to carry your phone, I.D., mini binoculars and keys. Many venues will examine the contents of your bag before entering, so be prepared. Some have handbag size requirements, so check your venue website before you go. It is best to lock your logo-blasting Louis Vuitton tote in your car, otherwise it will become a tripping hazard as well as a convenient "oops, I spilled my drink" receptible.
Packin' heat – familiarize yourself with your state and local venue regulations for carrying a weapon. These rules and regulations vary from state to state. University and school venues, as well as venues who sell alcohol may have stringent restrictions.
Hat check – I know, I know, I am a Texas girl, and I can truly appreciate a 30X Stetson, but ladies and gentlemen alike, you need to leave the headgear at home or cradle it reverently in your lap.
Drinks, toileting, swag – if you must leave during the concert to visit concessions, utilize the 'facilities', or buy swag, please do so ONLY between songs or sets. Just because it is not your favorite song, doesn't mean it isn't mine, and like you, I paid good money for this ticket! Same goes for your return trip over my feet!
STOP TALKING! Silence your phone! Enough said!
Go FLASHLESS! If photos are allowed, capture them flashless, not only is flash disrupting to the crowd, but blinding for the performer.
Sing-Alongs – no one can appreciate a good sing-along as much as me, but please wait until the artist beckons the crowd to sing. I am sure you won all-state choir in 1975 and I do realize that there are some tunes where you just can't help yourself, but do it quietly under your breath, not in my ear!
Difference between dancing and swaying to the music – please, please, don't bust your booty in front of me while I am trying to watch the show. If everyone is standing and moving to the music, then sway along, but don't invade my space…have a little respect!
It's not over until the house-lights come up – please don't walk all over me trying to get out of the aisle just because the artist plays their "last song". Often, they save the best for last, and I don't want to miss any part of the coveted encore. I repeat, the concert is not over until the house-lights come up!!
Last and certainly not least – Enjoy your next show and remember in the words of Tina:
Show Some Respect