---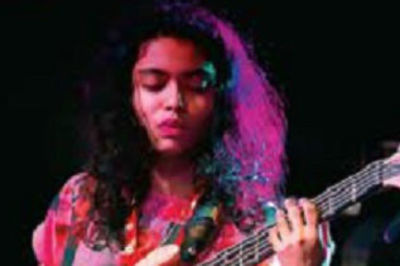 Mohini Dey lives, breathes and sleeps music. The accomplished bass guitarist, who is all of 19 years old, has been described as a prodigy by many musicians. The curly-haired teen, who was introduced to music at the age of three by her father, has been doing concerts and recordings all over the world since she was 10. No wonder she is now a part of AR Rahman's team. Not only has she done over 30 shows with the Oscar winner, but she has also done recording sessions with him for his movies. Excerpts from an interview with Mohini, who is in the city for a performance and workshop… Do you ever feel the pressure of being a child prodigy? There is no pressure as such, though I feel stressed out because of the workload sometimes. It's not just my projects, but also because I have to communicate and deal with a lot of people. However, it now feels natural as I have been doing this for 10 years.
Do you get along with other people your age? To be honest, no. I don't have any friends my age. They don't feel like talking to me. There are a lot of differences in our thought processes and maturity. I don't like cheesy topics and instead prefer to talk about music, life and nature. Maybe that's why I only have older musicians as friends. It has also got to do with me. It is hard to mingle with me. I keep myself focused and don't speak much. But it's OK — I chose this life. I am happy I get to collaborate with renowned musicians, share knowledge and travel. I think, to get something, you have to leave something out. In an age when degrees are so important, you left studies after school… While in school, while studying commerce, I kept thinking, 'Why am I doing this? This won't be of any use to me in music.' So I decided to quit. I don't care what people say. I follow my instinct as I know I have a family to fall back on. Tell us about your experiences of playing with AR Rahman (ARR)…
I started playing with Ranjit Barot and Louis Banks. Ranjit uncle's recording studio is like my second home. Once, he asked me to come for a recording. Halfway through it, I came to know I was playing for ARR! Though I knew of him, I wanted to know more and searched for him on the internet. That is when I realized how big he was! Then, the same night, the song was sent to ARR. The next day, I got a call from his manager asking me if I would be interested in playing on TV with ARR. So we met at a studio for rehearsals, where he greeted me politely and complimented me on my work. Then during break time, me, Sivamani and Prasanna were jamming. He later told people that he was impressed to see me focusing on music and not getting excited, as other people do after meeting him. What I like about ARR is that he gives you the freedom to ideate and examines what input I can give to the song. What is the best compliment you have received from him till date? When we were working on our TV appearance together, he told me that he was looking to get Tal Wilkenfeld.
But when he heard me, he only wanted me. That was the biggest compliment I can ever get. Any other artists you want to play with? I think I am blessed to have worked with AR Rahman, Zakir Hussain, Sivamani, Hariharan, Prasanna, Ranjit Barot, Mike Stern, George Brooks, Narada Michael Walden, Gergo Borlai and Salim-Sulaiman, among others. There's not much I can ask for. However, my dream was to work with Michael Jackson, but that couldn't happen. My other dream of working with Quincy Jones is coming true. I am working on an album with him and playing with him for a couple of his shows. What kind of music do you listen to? I like jazz and funk. Among the bands, I like Chick Corea Elektric Band, Level 42 and The Dave Weckl Band. I sometimes also have to listen to Bollywood. But it is not something I like. Most of the 19-year-olds are into dating. Are you too? Me? No way! I have no time for dating. Also, all boyfriends will run away if you only talk about music.
Get latest news & live updates on the go on your pc with News App. Download The Times of India news app for your device. Read more Entertainment news in English and other languages.