---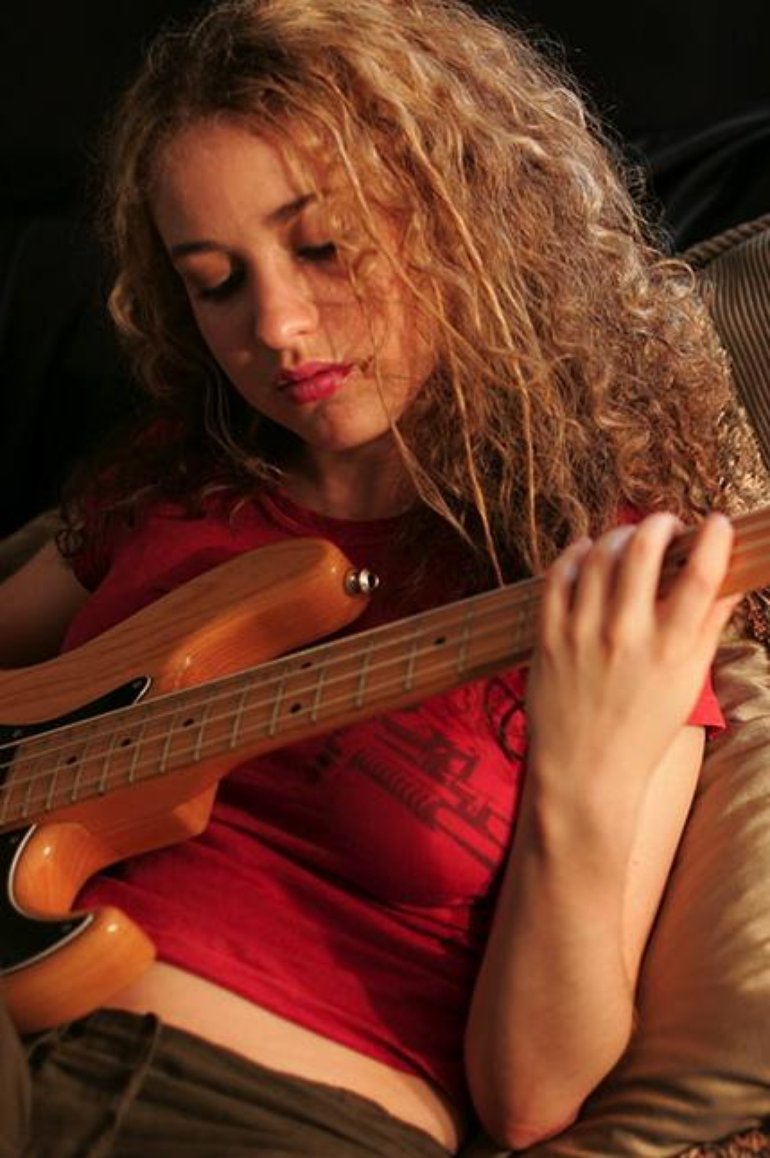 Widely hailed as "the rising star of the bass guitar," Tal Wilkenfeld first picked up guitar at the age of 14, in her native Sydney, Australia. She soon realized her passion and decided to pursue music professionally in the United States. After a year of studying guitar in Los Angeles, Tal found her true calling, and switched to the bass. It didn't take long for the 17-year-old prodigy to get noticed; after playing bass for only a few months, famed luthier Roger Sadowsky heard her play and immediately offered her an endorsement with Sadowsky Guitars.
Very quickly, Tal started performing as a sideman and bandleader, playing with the likes of Russell Ferrante, Kenwood Dennard, Hiram Bullock, Jeff "Tain" Watts, Leni Stern, Susan Tedeschi, and The Allman Brothers Band.
In May 2006, Tal recorded her first solo album, Transformation. She was 20, and had been playing bass for only three years. As well as demonstrating her prowess on bass, Tal also composed, arranged, and produced the album. The CD, which was released in 2007, features guitar savant Wayne Krantz, Geoff Keezer, Keith Carlock and Seamus Blake. It has been widely acclaimed by critics and music fans all over the world, with Bass Player magazine noting, "On her aptly-titled, vibrant debut, Wilkenfeld displays a writing depth and musical presence to complement the buzz about her dynamic-yet-discerning bass approach. Tal has a natural gift for writing in odd meters while retaining an indelible sense of melody and groove. Make no mistake, this lass is poised to soar."
On the heels of Transformation, some big breaks came Tal's way. At just 21, she accompanied jazz giant Chick Corea on his tour of Australia. One month later, guitar legend Jeff Beck asked her to join him on a European Summer Tour. The Beck tour culminated at Eric Clapton's Crossroads Festival, where Jeff featured Tal with a blistering solo on Cause We've Ended as Lovers. Many regard this as one of the highlights of the show. That track, along with Big Block, are featured on the DVD Crossroads Guitar Festival 2007. Perhaps her remarkable musical gift is best summed up by Jeff Beck, who enthused, "What can I say about Tal Wilkenfeld? How does one describe an astonishing talent? The answer is, you don't. You listen, and watch, as 45,000 people did in Chicago at the Crossroads Festival 2007. I have witnessed special moments in my time, but to see all those 'dyed-in-the-wool' blues fanatics and guitar freaks go berzzzzerk half way through her solo left me emotional, and that is an understatement. The word proud is barely adequate."
Four months later, Jeff asked Tal to perform with him on a series of shows in London, where they were joined by special guests Eric Clapton and Joss Stone. This concert was recorded and came out on CD in November 2008 as Performing This Week…Live at Ronnie Scott's. Upon arriving in England, Herbie Hancock heard that Tal and Vinnie Colaiuta were going to be in London playing with Jeff, and asked them both to join him on a session with fellow jazz icon Wayne Shorter, which was filmed for the A&E TV series Live from Abbey Road. Singer Corinne Bailey Rae was also featured on the session.
Tal wrapped up 2007 via a pair of standing-room-only Greenwich Village gigs with Wayne Krantz. She also accompanied Wayne on gigs in L.A., and then embarked on a tour of Australia in the fall of '08, with Wayne and Keith Carlock – a reunion of the core band who appeared on Transformation. At the conclusion of the tour, Wayne and Keith, along with John Beasley, backed Tal during her headlining set for Bass Player Live 2008. Elsewhere, in July 2008, Tal accompanied Jeff Beck at the Grammy's Tribute to George Martin concert in L.A. She was invited by Warren Haynes to participate in his 20th Annual Christmas Jam, in Asheville, North Carolina. There, she performed with The Allman Brothers Band, Gov't Mule, Ivan Neville, and Robben Ford. As a final "star on the tree" in 2008, Tal was voted The Year's Most Exciting New Player" in Bass Player's 2008 Readers Choice Awards.
Fulfilling the title of her critically-hailed debut disc, Tal Wilkenfeld's transformation has been continuing at a dizzying pace. Early 2009 saw Tal in New York City where she was featured as a special guest on Late Night With Jimmy Fallon sitting in with The Roots. She then went on to tour extensively with Jeff Beck in Australia, Japan, America, Europe, Canada and the UK. During the UK run, David Gilmour sat in with the group during a special performance at the Royal Albert Hall.
One of the highlights of the year included playing with Jeff at his induction into the Rock and Roll Hall of Fame in Cleveland, which featured Tal playing Immigrant Song with Led Zeppelin's Jimmy Page. July also found her in the studio, playing bass on a track (with Jeff Beck) for Herbie Hancock's upcoming CD. In October Tal reunited with Jeff at Madison Square Garden for the historic Rock and Roll Hall Of Fame's 25th Anniversary two night concert. Beck's searing set included guests Buddy Guy, Sting and Billy Gibbons.
Tal has since provided bottom for a few tunes on Lee Ritenour's next CD, joined by Steve Lukather, Neal Schon, Slash and Joe Bonamassa.
February began with the exhilarating word that Jeff Beck had won a Grammy for the much acclaimed CD/DVD Jeff Beck: Performing This Week…Live At Ronnie Scott's. In addition, advanced copies of Beck's new April-due CD, Emotion & Commotion, reached the press, leading Bass Player magazine to write, Wilkenfeld powers four tracks with present, prescient parts; this includes 'Serene,' with her ear-grabbing fills and brief but bright solo.
On the flipside came the news that after three thrilling years, Tal could not participate in Beck's current world tour because of scheduling issues. The time had come for her to focus all of her energy into writing and recording for her new solo project…stay tuned for more news on that front.