---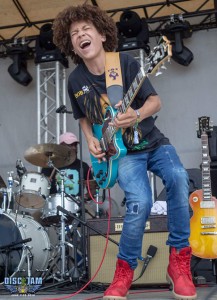 As mentioned in Part 1 of this interview, TAZ (Brandon Niederauer) is not only a dynamic, gifted musician, but an actor as well. TAZ began his acting career in 2016 playing a wunderkind teenage guitarist in the movie production Here Comes Rusty. He played the role of principal guitarist Zac Monneyham in Webbers' Broadway musical, School of Rock; John Legend, in NBC's Jesus Christ Superstar; and is featured in Spike Lee's Netflix series, She's Got to Have it. Hard work was a reoccurring theme I caught as TAZ reviewed his experiences with acting. "I learned many life-lessons from acting. I learned early on that I could not be late and that perseverance was necessary – whether filming in the hot desert or in the freezing cold, getting it right was expected." TAZ says that regardless of what he was doing, "I always devoted as much time as I could to try to get it right, to try to get things perfect every time. It was a blessing and a curse.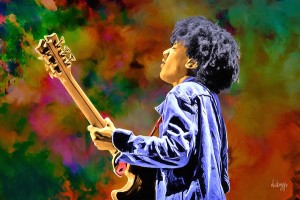 I always wanted to give one hundred percent every time. One major life lesson TAZ says he learned was that whether acting, playing a guitar rift, doing a live performance or a studio recording, "You are going to make mistakes, and you just have to let it go." Another bit of advice TAZ wanted to emphasize to young musicians is, "Do not expect perfection every time." TAZ and Jimi Hendrix share the same wavelength when it comes to handling mistakes. Jimi is quoted as saying, "…people don't notice that your music mistakes are mistakes if you don't wince! Hit that discordant chord another time deliberately, I tell my students, and people will think "ahh, he *meant* to do that – what a complicated piece to play. Works for other mistakes in life, too!"
Another strong bit of advice TAZ has for someone starting out is to "Just do it!" Perseverance and determination are key elements and TAZ said whether he was doing 12 hour rehearsals or pulling all night gigs, he was determined to do it, even at a very early age.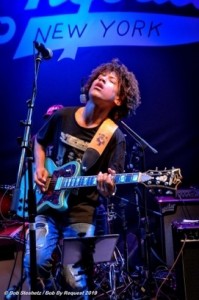 When asked if he has a particular practice regiment he said that he just sits down and plays. When I referred to his speed and quickness, he said, "I don't practice speed, I just play. My quickness just happened naturally, I never sat down with a metronome to measure my speed, and it has all just come naturally." TAZ did say that he has spent a lot of time on theory and on technique, but after he learned those things, he applied them and now he does not have to think about them. He says it is important to "…store that knowledge and keep it stowed away to pull from when needed." He again emphasized that he works "really really hard", and has to work rigorously at balancing playing time with school, sports, and what he calls being a "regular kid". Even at eight years old, TAZ, says he spent "hours and hours and hours" playing the guitar, but it was fun for him and he said that it will be fun for him for the rest of his life. One thing he noticed early on is that not only was he enjoying playing, but others were enjoying listening. That was a big surprise he said and he never dreamed in a million years that he would be where he is today, a noted, highly regarded musician.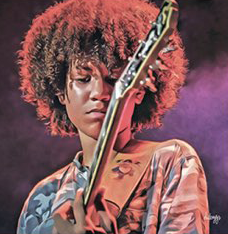 When asked what is the difference between a good and a great artist, TAZ, with no hesitation said that, "The difference between an artist and an amazing artist is that an amazing artist not only can block out the world and all the bad stuff for himself while playing, but do that for the audience as well." I think Jimi, one of the most amazing, best said it when he sang, "Scuse me, while I kiss the sky."
So TAZ, as you pick up that guitar and reach up and kiss the sky, we thank you for taking us with you, and welcome to the complex world of greatness.
(based on interview conducted 02/04/2019)