---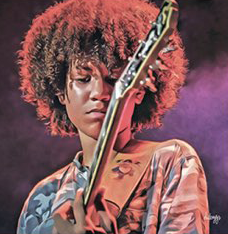 The Complexity of Greatness! Of what is greatness comprised: talent, practice, genes, nature, nurture, prodigy, passion? In the gallery of guitar greats reside Jimi Hendrix, Jimmy Page, Stevie Ray Vaughan, B.B. King, Eric Clapton and more recently, TAZ.
Brandon Niederauer, known as TAZ due to his ferocious and unique style of guitar prowess, merges easily into this gallery of greats. He is truly that respected and has performed with many notables such as the Allman Brothers Band, Dereck Trucks, Stevie Nicks, Slash, Dweezil Zapa, Lady Gaga, Spafford, and Dumpstaphunk just to name a few.  TAZ played the role of principal guitarist Zac Monneyham in Webbers' Broadway musical, School of Rock; John Legend, in NBC's Jesus Christ Superstar; and is featured in Spike Lee's Netflix series, She's Got to Have it. He has just returned from the 2019 Jam Cruise where he was a featured MVP on board.
The 15 year-old TAZ began playing the guitar at age 4 when he was greatly influenced by his dad's album collection. Though confident, TAZ comes across as unpretentious and considerate. When asked if he believed himself to be a prodigy because of his early guitar accomplishments, he immediately responded: "No, I'm just a guitar player, a singer and a lover of music." To be really great, TAZ says: "Knowledge is the key. Practice has a learning curve and once you pass the learning curve, you can start to really go outside the box and try new things…I take what I have learned from others and apply it to my own style."  Jimmy Page is quoted as saying "I believe every guitar player inherently has something unique about their playing. They just have to identify what makes them different and develop it" (Guitar World 2006). TAZ most certainly is doing that:
It's an uphill battle and takes hours and hours of playing, but it is still my favorite thing to do every day after school.  Playing is always fun and it will be for the rest of life…I have always wanted to explore all that I could on the guitar and I never dreamed I would be here at this point…I am very thankful!
After a little laughter and a silent pause, TAZ responds to my questions about balancing school, playing music, maintaining an acting career and having a social life. "I try to keep music and school 100% separate, I play sports. I am on the basketball team. I keep low-key in school." He runs through his recent schedule and tells me:
I do have a crazy schedule. I go to public school like any other kid, and I make straight A's. Even if I am out playing until 2 o'clock in the morning, my parents still definitely make sure I am in class and getting straight A's… School is very important! Knowledge is applied to anything in the world!
TAZ attributes parental nurturing to greatness. When asked if he has advice for those who are parenting gifted musicians, he quickly responds that parents should nurture their kids and don't push them. "Let them play what they want to play: metal, classical, rock, whatever, as long as it does not hurt anyone or is not violent." He makes the analogy that raising a musician is much like raising an athlete, supporting them with the right kind of training.  Wise beyond his years, wouldn't you agree?
When asked with what artist, dead or alive, he would most like to perform, TAZ responded without hesitation:
Jimi Hendrix! There was so much behind every note he played and I would love to know the message behind everything he played, to know what he was going through, and what he was trying to convey. I would love to watch him, to play with him, and try to grasp any advice he might have for me.
When I lamented the early passing of Jimi, TAZ quickly reprimanded me saying, "Jimi was able to do in such a short time, what nobody has ever eclipsed or been able to do…he did so much for the world and he stepped out of the box for the guitar community. He is most instrumental in the progression of guitar."
TAZ, it is quite evident that you too are now and will continue to be, instrumental in the progression of rock music. Obviously a product of many things: nurture, nature, passion, hard work, and perhaps a little channeling from Jimi, you define the complexity of greatness!
Stay tuned to RockChat where in our next feature article, TAZ will tell us his thoughts on the difference between a good and a great musician, his practice habits, how he handles making mistakes, his best advice for young musicians, and more on his acting career.
(based on interview conducted 02/04/2019)